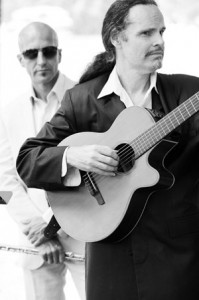 Classical Guitar for Wedding Ceremonies:
André is experienced in performing all styles of wedding ceremony music. He will design and create the perfect musical setting to take your vows in your own special way. He will help you choose the musical pieces that will create the little flutters of the heart, the memories, and the solemnity, that such an important occasion deserves.
He will help you choose pieces that fit with your personality and your dreams. Music that will fit your own personal style as well as bear witness to the traditional elements that have been honoured for centuries.
André has a wide selection of ceremony pieces – which he performs with artistry.
The musicians will begin to perform a variety of wedding music approximately a half hour prior to the ceremony start time, as your guests arrive and settle in. Then, as the wedding ceremony begins, the musicians will perform your selected pieces for your processional(s), the register signing, and finally your joyful recessional.
The total performance time for an average wedding ceremony is about one hour, and we never charge extra if your ceremony goes longer or starts late.
André offers a complete package of music for your wedding.
Following your ceremony, your guests will move on to the cocktail portion of your wedding. If this is in the same location, the musicians can continue to perform from the same spot, or can move to the area where the cocktails are being served.
Visually, André has an awesome look that will complement any vision you have for your ceremony. With Andre's long, flowing hair and long black jackets and brocade vests their style is reminiscent of the court style of the 1700's but with today's hip, elegant downtown culture.