André performs all styles of music for any type of event.
As a accomplished performer Andre's versatility is all encompassing whether as a solo or in a group format.
He has studied and covered as many styles of music as there are musical tastes. He is a recording jazz artist but also authentically plays country, blues, rock, latin
He is a seasoned vocalist and will entertain and surprise you with a vast choice of repertoire.
Whether to sit and listen or to get up and dance his depth of music will caress your senses, ignite your dance moves and impress you with his unique artistic flair at every turn.
Andre is a guitarist's guitarist. With his rare 1968 Gretsch 7 string guitar he offers a personal playing style and sound, along with a high quality sound system for a truly exceptional live music experience.
As a music programmer for 20 years, Andre has constructed all the arrangements in his studio for the background tracks in his repertoire used in his solo/duo/trio performances to provide an even higher level of quality of sound.
It also replicates a full band compliment of 4 or 5 musicians. To accommodate a Sunday brunch, a Saturday night at the bar, a concert, a social dance, a pool party or any other event, Andre will deliver as a solo, duo or trio.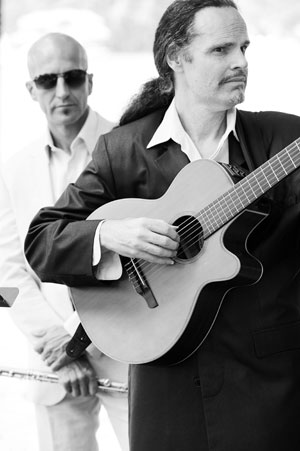 CLASSICAL GUITARIST
André is also a world class Classical guitarist
Whether you need classical music for a cocktail event, a showcase,  a concert or a wedding, André  will design and create the perfect musical program to create the perfect musical backdrop to your event.
Visually, André has an awesome look that will complement any vision you have for your ceremony. With Andre's long, flowing hair and long black jackets and brocade vests their style is reminiscent of the court style of the 1700's but with today's hip, elegant downtown culture.
Visit André's Full Service Wedding Band site