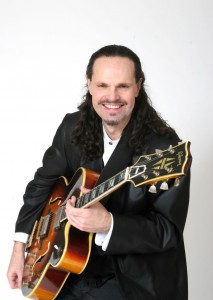 As a solo performer or in a Duo or Trio format, André Roy is an acclaimed Jazz, Classical, Blues, Rock guitarist and vocalist.
Originally from Montréal, André began performing and touring with Québec recording artists while still in his early teens.
André majored in music at both Vanier College and McGill University before being awarded a prestigious Canada Council grant to further his music study at the world-renowned Berklee College Of Music in Boston.
It was at Berklee that André was introduced to the 7-string guitar by one of his professors who recognized Andre's unique musicianship and became his mentor. Now based in Florida, André is one of a handful of 7-string guitarists – and a crooning, grooving, rocking versatile vocalist.
As the musical arranger for his popular dance band The Royz Band, André's comittment and dedication to every form of music  will simultaneously create the perfect ambiance, inspire the music aficionados, get the ballroom dancers on their feet……. and totally rock the house.
André is completely bilingual in both French and English.
André Roy performs for all events from classical ceremonies to jazz cocktails, dinner dances and galas to blues and rock clubs throughout southern Florida, and Toronto.